Let's make this part of the iTwixie Tween Girl Book Club! So the book of choice, Mackenzie Blue by Tina Wells, is the one we are using for the report contest. Make a mobile, take a pic, write a song, or just tell us why you love Mackenzie Blue by Tina Wells and send it to judy@itwixie.com !
When Mackenzie Blue, or Zee, as she likes to be called, enters Grade 7, she knows it will be a hard adjustment. Not only is she going to brand-new school with brand-new teachers and classmates she doesn't know, Zee's best friend in the world, Ally, recently moved away to France.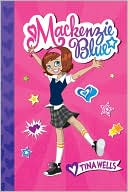 The deadline for your report is December 12. We will start voting on December 14 and have a week to vote for the winning book report!
Whoever gets the winning # of votes, will get a very special, one-of-a-kind iTwixie prize! The winner will be announced on December 21.
What a great idea! Thanks to Spinner119 and Joyandpeaceonearth for making iTwixie's Tween Girl Book Club even more fun